Roof Damage Insurance Claims From Wind, Hail, Leaks, and Storms
As a full-service roofing company in Dallas, we go above and beyond to help you get your roof repaired. That means we don't just repair your roof, or just offer free inspections - we also can help with roof damage insurance claims!
When you choose Pineapple Roofing, we can help educate you on the insurance process, and together, we can help you file the claim properly. We have over a decade of experience as insurance adjusters and so we understand the terminology and playbook, and you can feel confident with us in your corner.
What Are The Advantages Of Starting Your Roof Damage Insurance Claim From Wind, Hail, Or Rain With Us?
The last thing you want is to go with a roofing company that doesn't understand the rules insurance companies play by - this presents the risk of making costly mistakes on your roof damage insurance claim.
When you go with us, you get a professional, experienced team that has a track record of successfully filing roofing insurance claims for storm damage that benefit the customer.
You don't just have to take our word for it, either. We're part of the NTRCA organization, which verifies us as qualified, professional, ethical roofers and contractors.
Let's face it - you have plenty of other things to worry about and stress over other than filing a roof damage insurance claim as a result of wind, hail, or other storm damage. Whether it be working a full-time job or starting a business, raising a family and caring for your kids, or anything else. Instead, let us go to bat for you.
The honest reality is reviewing insurance estimates and working with adjustors is a tedious, frustrating process - so why bother? That's what we're here for! Not only do we handle any sort of home insurance roof leak or hail damage - we win favorable outcomes for you, making sure that the insurance company is held accountable to compensate you in a fair manner.
What Our Customers Say
"The team at Pineapple Roofing was perfect from start to finish."

- Joyce N.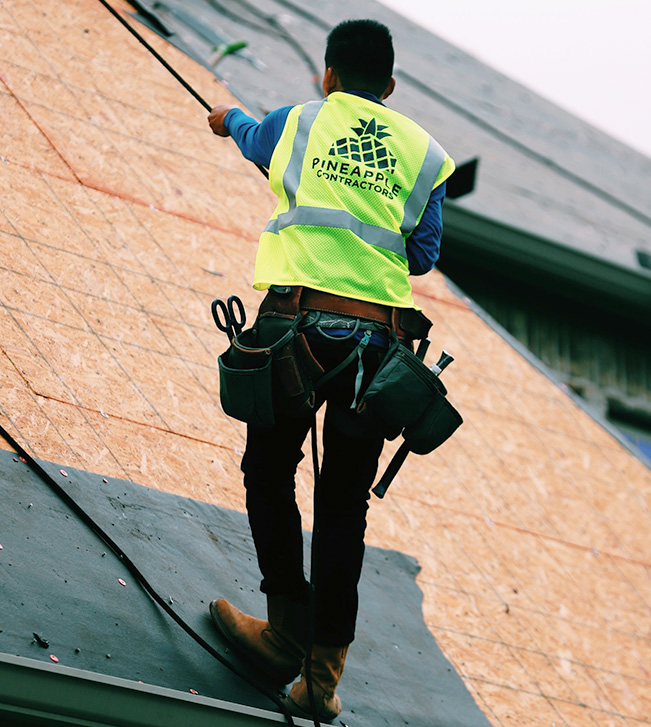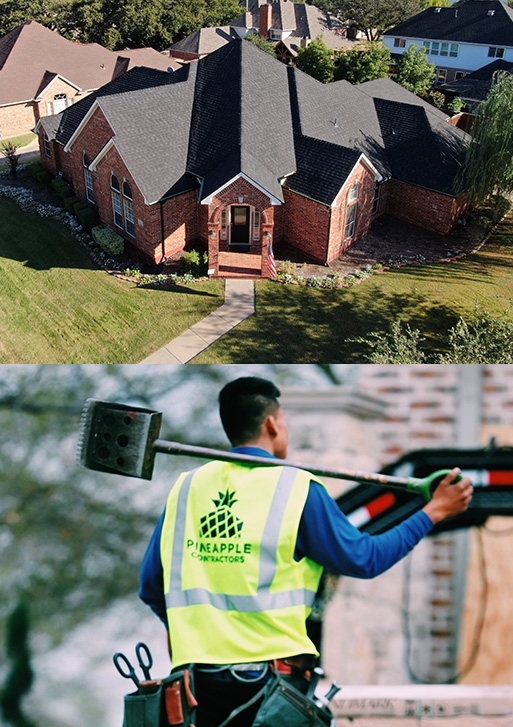 How Our Roofing Insurance Claims For Storm Damage Work
Choosing Pineapple Roofing means getting your roofing insurance claims filed is easier than ever, as it's actually an integral step in our roofing process. Here's how it works:
We come out to your home or commercial building and do our free inspection to identify the type and extent of damage that has occurred to your roof.
From there, we explain what our recommendation is and what our plan of action will be. Together, we agree to replace your roof once the insurance claim gets approved.
Next, we file the roof damage insurance claim with the insurance company, the adjuster comes to visit and approves the claim.
As you can see, choosing Pineapple Roofing means you don't have to stress about roofing insurance claims for storm damage - we handle everything for you. So, at this point, all that's left to do is reach out about your free roofing inspection. We're excited to work with you
We Offer Both Home Insurance Roof Leak or Commercial Roofing Insurance Claims For Storm Damage!
Whether you're looking for a commercial roofing service or a residential roofing service, you're in the right place - and we can handle any sort of wind, rain, or hail damage insurance claim you need help with.
No matter what your roof is built from, no matter the extent of the damage - we're the professionals for you! This is how it works: